STRATEGI PENGEMBANGAN BISNIS TAMBAK IKAN BANDENG DI DESA MENGARE WATUAGUNG GRESIK
Keywords:
Strategy, Feasibility, SWOT, Milkfish Pond Business
Abstract
This research was conducted to analyze the factual conditions in the milkfish pond business, find out the development business strategy, and compile a business plan for milkfish pond business development. This study uses data analysis methods in the form of in-depth interviews, observation and documentation. From the results of the research the factual business conditions on the technical aspects including pond preparation, fertilizing and eradicating pests, acclimatization and spreading nener, feeding, and harvesting have been going well. In the management aspect which consists of planning, organizing, moving, and supervising according to business functions. In the marketing aspects including marketing mix, marketing channels, marketing margins and ways of payment have been distributed to consumers. In the calculation of short-term and long-term financial aspects it can be concluded that this business is profitable and feasible to run financially. The business development strategy with the SWOT analysis is located in quadrant I, which supports aggressive growth policies using the SO (Strength Opportunities) strategy. The strategy used is to maintain the quality of milkfish, conduct training with field extension workers, utilize natural resources, facilities and infrastructure to support business and optimize this business for the better by looking at financial aspects that are viable.
References
Adi, Sapto. 2011. Analisa Usaha Perikanan Budidaya. Pusat Penyuluhan Kelautan dan Perikanan Badan Pengembangan SDM Kelautan dan
Perikanan Kementrian Kelautan dan Perikanan. Jakarta.
Arif, M. Ichsan. 2008. Perencanaan Bisnis. Bisnismikro.com/?p=76. Diakses
pada tanggal 18 Februari 2018.
Akbar & Usman. (2009). Metode Penelitian Sosial. Jakarta: Bumi Aksara
Ashari, Rezki. 2012. Analisis Kelayakan Usaha Budidaya Ikan Nila dan Ikan Bandeng di Desa Kanaungan Kecamatan Labakkang Kabupaten Pangkep. Makassar.
Denscombe, Martyn. 2003. The Good Research Guide For Small-Scale Research Projects. Glasgow: Bell & Bain Ltd.
Fahmi, Irham. 2014. Manajemen Strategis Teori dan Aplikasi. Bandung: Alfabeta.
Hitt, Michael A., Ireland, R. Duane and Hoskisson, Robert E. 2017. Strategic Management: Competitiveness and Globalization. Cengage Learning.
Husnan, S dan Suwarsono. 1999. Studi Kelayakan Proyek. UPP AMP YKPN.
Yogyakarta.
Johan, Suwinto. 2011. Studi Kelayakan Pengembangan Bisnis. Graha Ilmu.
Yogyakarta.
Kasmir dan Jakfar. 2012. Studi Kelayakan Bisnis. Prenada Media. Jakarta.
Maulana, Mochammad Evan Setya. 2008. Analisis Kelayakan Usaha Pembuatan Bandeng Isi Pada BANISI di Kecamatan Soreang, Kabupaten Bandung, Jawa Barat. Institut Pertanian Bogor. Bogor.
Muntalim, Faisol Mas'ud. 2014. Pengembangan Budidaya dan Teknologi Pengolahan Ikan Bandeng (Chanos Chanos Forskal) di Kabupaten Lamongan Guna Meningkatkan Nilai Tambah. Jurnal Eksakta Vol 2 No 1.
Pudjosumarto, Mulyadi. 1985. Evaluasi Proyek. Liberty. Yogyakarta.
Rangka, Nur Ansari dan Asaad, Andi Indra Jaya. 2010. Teknologi Budidaya Ikan Bandeng di Sulawesi Selatan. Balai Riset Perikanan Budidaya Air Payau. Sulawesi Selatan
Rangkuti, Freddy. 2008. Analisis SWOT Teknik Membedah Kasus Bisnis. Bpfe-
Yogyakarta.
Soehartono, Irawan. 2011. Metode Penelitian Sosial Suatu Teknik Penelitian Bidang Kesejahteraan Sosial dan Ilmu Sosial Lainnya. PT. Remaja Rosdakarya. Bandung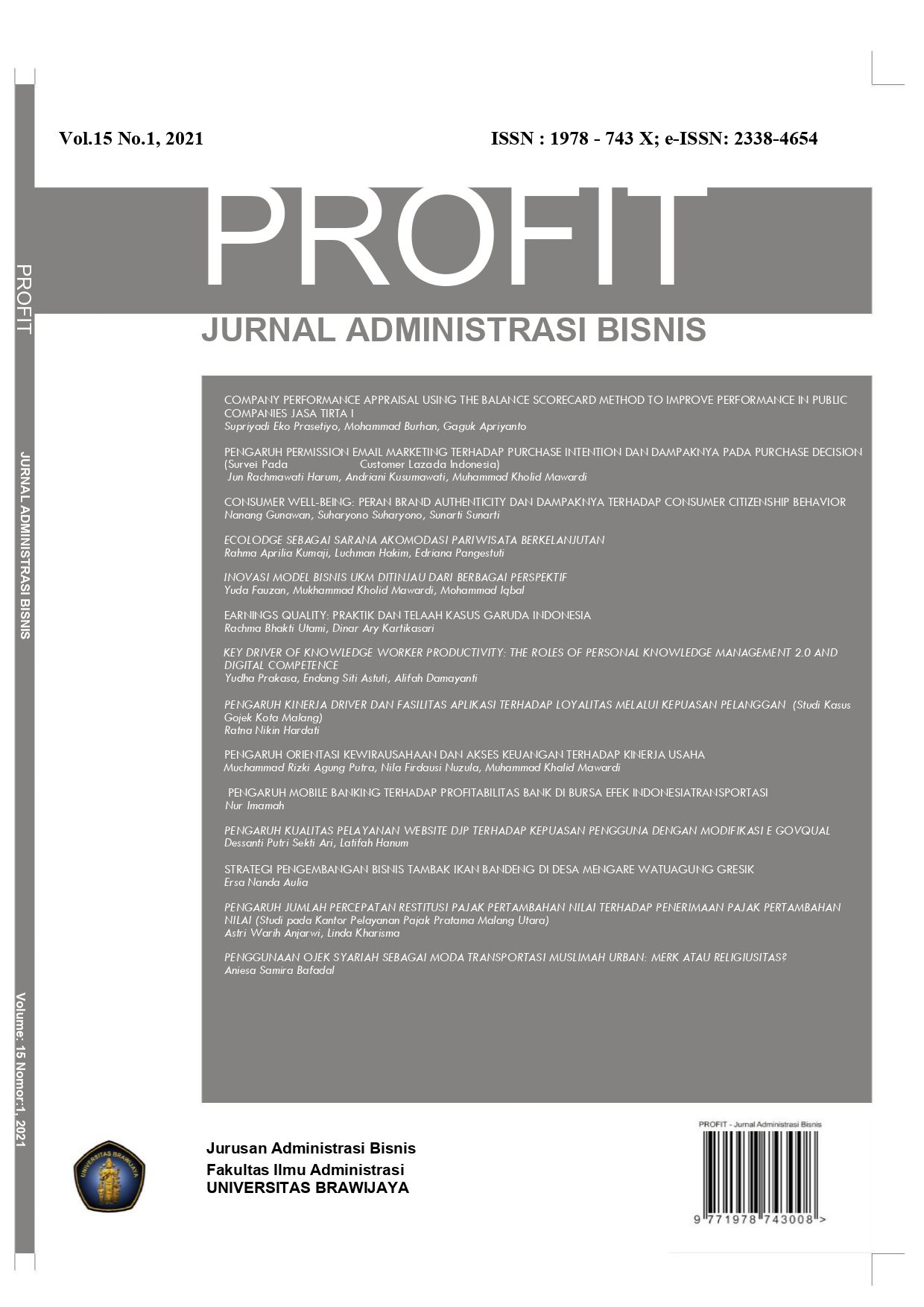 Downloads
License
The copyright of the received article shall be assigned to the journal as the publisher of the journal. The intended copyright includes the right to publish the article in various forms (including reprints). The journal maintains the publishing rights to the published articles.

This work is licensed under a 
Creative Commons Attribution-NonCommercial 4.0 International License