ANALISIS FAKTOR-FAKTOR YANG MEMPENGARUHI INTENSI IMPLEMENTASI E-MONEY DALAM TRANSAKSI USAHA PADA PEDAGANG ASONGAN UNTUK MENINGKATKAN CASHLESS SOCIETY DI BATAM
Keywords:
Street vendor, E-Money, Cashless Society
Abstract
This study aims to determine the effect of facilities, business expectations, attitudes towards e-money and security towards street vendor. This study uses a sampling method in the form of Non Probability Sampling. The sampling technique used in this study used purposive sampling. Samples taken as many as 100 respondents. The analytical method used in this research is a quantitative analysis method and this research uses data collection method by distributing online questionnaires to street vendor in the city of Batam. This study uses Statistical Product and Service Solutions (SPSS) version 22 for data analysis.The results of this study indicate facilities have no effect on e-money implementation, business expectations have a significant effect on e-money implementation, e-money towards attitudes have a significant effect on e-money implementation. and security do not have a significant effect on the implementation of e-money.
Keywords : Street vendor, E-Money, Cashless Society
References
Agustin, H., & E. M. (2016). Studi Empiris Penerimaan dan Penggunaan E- Learning System di Kalangan Mahasiswa Akuntansi Fakultas Ekonomi UNP. Nar Nasional Aplikasi Teknologi Informasi (SNATI, 8, 17–22. https://journal.uii.ac.id/Snati/article/view/6257
Aksami, N. M. D. . & J. I. M. (2019). Penerapan Model UTAUT 2 Untuk Menjelaskan Niat Dan Perilaku Penggunaan E-Money di Kota Denpasar. E-Jurnal EP Unud, 8(9), 2439–2470.
Andrean Septa yogananda, I. M. B. D. (2017). PENGARUH PERSEPSI MANFAAT, PERSEPSI KEMUDAHAN PENGGUNAAN, KEPERCAYAAN DAN PERSEPSI RISIKO TERHADAP MINAT UNTUK MENGGUNAKAN INSTRUMEN UANG ELEKTRONIK. DIPONEGORO JOURNAL OF ECONOMICS, 6(4). https://ejournal3.undip.ac.id/index.php/djom/article/view/17947
Ariani, M., & Z. (2016). Effect of easy transaction, consumer interests, and systems security level measures against fraud online shopping in Lazada. International Journal of Security and Its Applications, 10(12), 187–206. https://doi.org/10.14257/ijsia.2016.10.12.15
Aslam, W., Ham, M., & Arif, I. (2017). Consumer Behavioral Intentions towards Mobile Payment Services: An Empirical Analysis in Pakistan. Market-Tržište, 29(2). https://doi.org/10.22598/mt/2017.29.2.161
Bachtiar, A. M., & Rivki, M. (2017). Implementasi Algoritma K-Nearest Neighbor Dalam Pengklasifikasian Follower Twitter Yang Menggunakan Bahasa Indonesia,. Jurnal Sistem Informasi ( Journal of Information Systems )., 13(1), 90–96.
Diana, N. (2018). ANALISIS FAKTOR-FAKTOR YANG MEMENGARUHI MINAT PENGGUNAAN ELECTRONIC MONEY DI INDONESIA [Universitas Islam Indonesia]. https://dspace.uii.ac.id/bitstream/handle/123456789/6498/SKRIPSI.pdf?sequence=1
Engkos Achmad Kuncoro Riduwan, E. A. (2014). Cara Menggunakan dan Memaknai Path Analisis. alfabeta.
Firdaus, M. A. (2019). Pengaruh Sistem E-Payment, Sosial Media, dan Pemanfaatan Go-Food Terhadap Keputusan Pembelian Konsumen pada Toko Kue dan Roti Choco Bakery Medan. https://repositori.usu.ac.id/handle/123456789/15978
Fred D. Davis, J. (1986). Tissue culture studies of the human lymphocyte. Science, 146(3652), 1648–1655. https://doi.org/10.1126/science.146.3652.1648
Gamaliel, Y., Suakanto, S., & A. (2017). Perancangan dan Implementasi Payment Gateway dengan metode Concurrency untuk Transaksi Nontunai. Jurnal Telematika, 12(1), 2579–3772. https://journal.ithb.ac.id/telematika/article/view/174
Indah, Mutiara; Agustin, H. (2019). Penerapan Model Utaut (Unified Theory Of Acceptance And Use Of Technology) Untuk Memahami Niat Dan Perilaku Aktual Pengguna Go-Pay Di Kota Padang. Jurnal Eksplorasi Akuntansi, 1(4). http://jea.ppj.unp.ac.id/index.php/jea/article/view/188/144
Iswara, M. A. (2021). Layanan Perbankan Digital Memacu Transaksi, E-Commerce Kecipratan. Tirto.Id. https://tirto.id/layanan-perbankan-digital-memacu-transaksi-e-commerce-kecipratan-gbPa
Lucas, H., Nash, J. F., & Leitch, R. A. (2017). Artikel Pemodelan Acceptance Dalam Pengukuran.
Nur Hadi. (2019). Transaksi Pedagang Asongan Menurut Ekonomi Syariah. Tribakti (Jurnal Pemikiran Keislaman), 30(2). https://ejournal.iai-tribakti.ac.id/index.php/tribakti/article/view/815
Paramita Nur Kurniati, B. Y. N. (2019). Urgensi Pelaksanaan Sistem Cashless Government dalam Membangun Birokrasi yang Transparan dan Akuntabel. Jurnal Administrasi Publik (Public Admnistration Journal, 9(2), 136–150. file:///C:/Users/ThinkPad/Downloads/2655-9773-3-PB.pdf
Pintubipar Saragih, S., & Nopriadi, N. (2019). Pengaruh Budaya Terhadap Actual Use Digital Payment System Pada Pelaku UMKM di Kota Batam. Journal of Applied Informatics and Computing, 3(2), 63–67. https://jurnal.polibatam.ac.id/index.php/JAIC/article/view/1646/967
Sari, I. (2019). PENGARUH KEMUDAHAN, MANFAAT PENGGUNAAN TEKNOLOGI, FITUR LAYANAN DAN KEAMANAN, TERHADAP MINAT MENGGUNAKAN E- MONEY, DENGAN SIKAP PENGGUNAAN SEBAGAI VARIABEL INTERVENING [IAIN Salatiga]. http://e-repository.perpus.iainsalatiga.ac.id/5989/
Sofyan Yamin, H. K. (2009). SPSS Complete : Teknik analisis statistik terlengkap dengan software SPSS. Salemba Infotek.
Sugiyono, P. D. (2018). Metode Penelitian Bisnis, Pendekatan Kuantitatif, Kualitatiff, Kombinasi, dan R&D (3rd ed.).
Suwandi, M. A., & Azis, E. (2018). Faktor-Faktor yang Mempengaruhi Penggunaan E-Money pada Generasi Millenials. E-Proceeding of Management, 5(3), 3104–3111.
Ula Rahmatika, M. A. F. (2019). FAKTOR - FAKTOR YANG MEMPENGARUHI MINAT PENGGUNAAN ELECTRONIC MONEY: INTEGRASI MODEL TAM – TPB DENGAN PERCEIVED RISK. Nominal-Barometer RIset Akuntansi Dan Manajemen, 8(2), 274–284. file:///C:/Users/ThinkPad/Downloads/26557-69011-2-PB.pdf
Widayat, W., Masudin, I., & Satiti, N. R. (2020). E-Money Payment: Customers' Adopting Factors and the Implication for Open Innovation. Journal of Open Innovation: Technology, Market, and Complexity, 6(3). https://doi.org/10.3390/joitmc6030057
Yelni Aprina, & R. Y. (2019). IMPLEMENTASI PERATURAN DAERAH KOTA BUKITTINGGI NOMOR 2 TAHUN 2015 TENTANG PENCEGAHAN DAN PENANGGULANGAN BAHAYA KEBAKARAN. JMIAP (Jurnal Manajemen Dan Ilmu Administrasi Publik, 1(4), 70–79.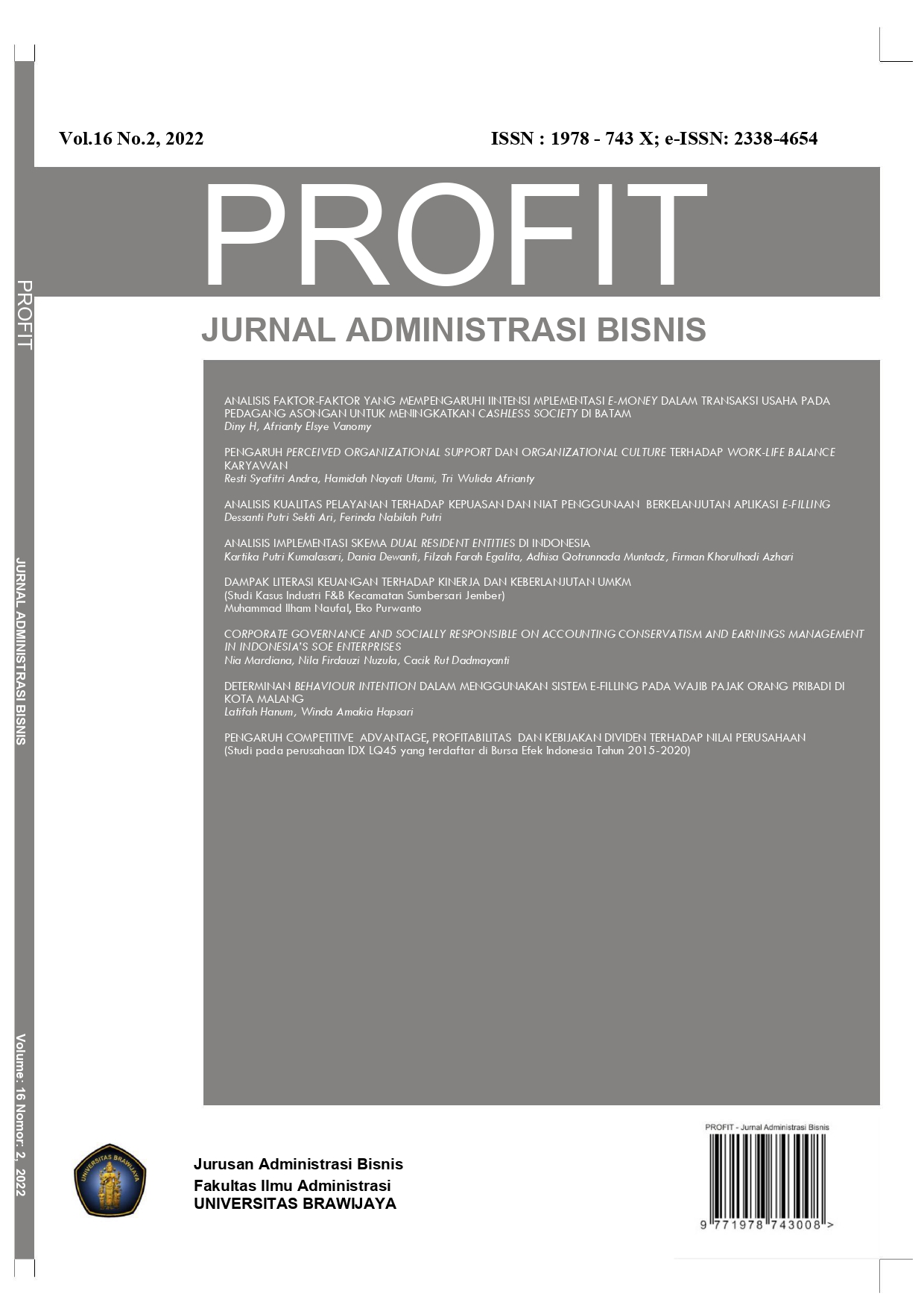 Downloads
License
Copyright (c) 2022 PROFIT: JURNAL ADMINISTRASI BISNIS
This work is licensed under a Creative Commons Attribution-NonCommercial 4.0 International License.
The copyright of the received article shall be assigned to the journal as the publisher of the journal. The intended copyright includes the right to publish the article in various forms (including reprints). The journal maintains the publishing rights to the published articles.

This work is licensed under a 
Creative Commons Attribution-NonCommercial 4.0 International License