ANALISIS KUALITAS PELAYANAN TERHADAP KEPUASAN DAN NIAT PENGGUNAAN BERKELANJUTAN APLIKASI E FILLING
Keywords:
Service Quality, User Satisfaction, countinuance intention, e-GovQual, Expectation Confirmation Model of IS Continuance
Abstract
One application of e-government at the Directorate General of Taxes is the e-filing application. E-filing is one of the Directorate General of Taxes applications that help online SPT reporting. E-filing can help taxpayers report their SPT more efficiently and faster. However,  there are still some taxpayers who do not use this application. The system is successful if the user is sure to continue using it again. Therefore, this study aims to determine the effect of e-filing service quality on user satisfaction and the effect of user satisfaction on sustainable intentions. The population used in this study is individual taxpayers on the island of Java. The sampling method used is accidental sampling. This study used an online survey to collect data. The results of this study indicate that efficiency, public support, and trust have a significant effect on user satisfaction. User satisfaction itself has a significant effect on ongoing intentions in e-filing applications. Reliability has no significant effect on user satisfaction.
References
Abdillah, W. & Hartono, J. (2015). Partial Least Square (PLS) – Alternatif Structural Equation Modeling (SEM) dalam Penelitian Bisnis. Yogyakarta: Andi.
Al-Hawary, S.I.S. and Al-Menhaly, S.M. (2016). The Quality of E-Government Services and its Role on Achieving Beneficiaries Satisfaction. Global Journal of Management and Business Research: A Administration and Management, 16(11), 1-11.
Ari, D.P.S & Hanum, L. (2021). Pengaruh Kualitas Pelayanan Website DJP Terhadap Kepuasan Pengguna dengan Modifikasi E-GovQual. Profit Jurnal Administrasi Bisnis, 15 (1).
Bhattacherjee, A. (2001). Understanding information systems continuance: An expectation confirmation model. MIS Quarterly, 25(3), 351–370.
Goh, C. Y., Ong, J. W., Tan, S. Z., Goh, G. G. G., & Eze, U. C. (2012). E-service quality and user satisfaction toward Efiling. International Journal on Social Science, Economics and Art, 2(2), 50-54.
Hambali, A.J.H. (2020). The Success of E-Filing Adoption during COVID-19 Pandemic: The Role of Collaborative Quality, User Intention, and User Satisfaction. Journal of Economics, Business, and Accountancy Ventura, 23 (1), 57 – 68.
Kotler, P. (1997). Marketing Management: Analysis, Planning, Implementation and Control. Prentice-Hall Inc.
Napitulu, D. (2016). Analisis Kualitas Layanan E-Government dengan Pendekatan E-GOVQUAL dan IPA. Jurnal Penelitian Pos dan Informatika, 6(2), 153 - 168.
Papadomichelaki, X., & Mentzas, G. (2012). e-GovQual: A multiple-item scale for assessing e-government service quality. Government Information Quartely, 29 pp. 98 – 109.
Parasuraman, A, Zeithaml, V. A., & Berry, L. (1988). SERVQUAL: A multiple item scale for measuring consumer perceptions of service quality. 1988, 64(1), 12–40.
Porumbescu, G. A. (2016). Linking Public Sector Social Media and EGovernment Website Use to Trust in Government. Government Information Quartely, 33(2), 291-304.
Pratama, W.P. 2022. Update SPT Tahunan 2022, Pelaporan Sudah Capai 96,5 Persen dari Realisasi 2021.
https://ekonomi.bisnis.com/read/20220315/259/1510734/update-spt-tahunan-2022-pelaporan-sudah-capai-965-persen-dari-realisasi-2021.
Diakses pada Desember 2021.
Rahayu, F. S., Apriliyanto, R., & Putro, Y. S. P. W. (2018). Analisis Kesuksesan Sistem Informasi Kemahasiswaan (SIKMA) dengan Pendekatan Model DeLone dan McLean. Indonesian Journal of Information Systems, 1(1), 34- 46.
Setyaningrum, A. (2015). Penilaian Kualitas Website Menggunakan Dimensi e-GovQual: Studi Kasus Kementrian Komunikasi dan Informatika. Universitas Indonesia.
Tjiptono, F. (2018). Strategi pemasaran. Penerbit Andi Offset.
Veeramootoo, N., Nunkoo, R., & Dwivedi, Y. K. (2018). What determines success of an e-government service? Validation of an integrative model of e-filing continuance usage. Government Information Quartely, 35, 161 – 174.
Widiani, Y. N., & Abdullah. (2018). Kualitas Pelayanan E-Government Melalui Aplikasi E-Filing Kantor Pelayanan Pajak Pratama Bandung Cibeunying Terhadap Kepuasan Pengguna Aplikasi. Jurnal Riset Bisnis dan Manajemen, 11(2), 88 – 96.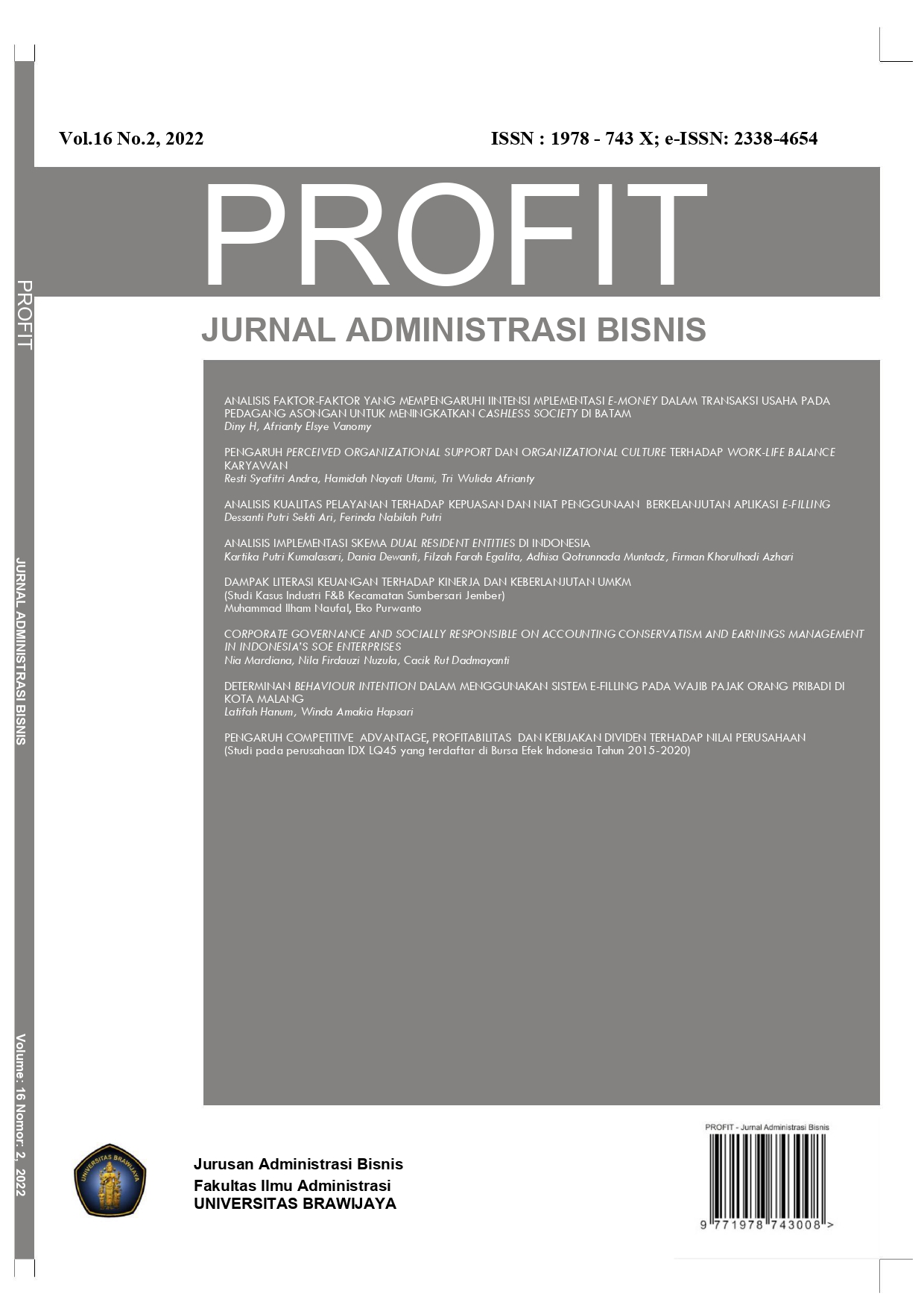 Downloads
License
Copyright (c) 2022 PROFIT: JURNAL ADMINISTRASI BISNIS
This work is licensed under a Creative Commons Attribution-NonCommercial 4.0 International License.
The copyright of the received article shall be assigned to the journal as the publisher of the journal. The intended copyright includes the right to publish the article in various forms (including reprints). The journal maintains the publishing rights to the published articles.

This work is licensed under a 
Creative Commons Attribution-NonCommercial 4.0 International License